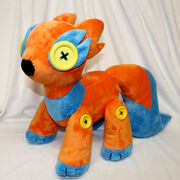 ABOUT THE PLUSH:
- Standing it is 16 inches high! - Lying down it is 24 inches long! - Doll joints in each leg to pose the plush however you want! - Made from super soft cuddly minky from Fabric.com - As this is a HANDMADE item, it is recommended for ages 3+, and is best for light play, cuddles or display. - Machine sewn for larger pieces and hand sewn for smaller things like eyes, paws, ears, etc. - It cost over $30 in materials and took over 15 hours to create!
This is an IcePets special.
Ad blocker interference detected!
Wikia is a free-to-use site that makes money from advertising. We have a modified experience for viewers using ad blockers

Wikia is not accessible if you've made further modifications. Remove the custom ad blocker rule(s) and the page will load as expected.