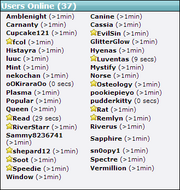 Description
Edit
This feature displays all online players along with each player's upgrade status and idle time. It can be found on the IcePets Stats page.
Appearance
Edit
It has a bluish title bar.  The title states 'Users Online' with the number of online players in parentheses.  Each player's username appears in bold.  If the player is upgraded a small yellow star (
) will appear to the left of the player's username.
The player's estimated idle time appears in parentheses to the right of the player's username.  After an unknown amount of idle time, the player's username will no longer be displayed.
Ad blocker interference detected!
Wikia is a free-to-use site that makes money from advertising. We have a modified experience for viewers using ad blockers

Wikia is not accessible if you've made further modifications. Remove the custom ad blocker rule(s) and the page will load as expected.