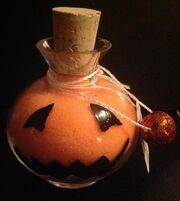 Each Halloween Snow Jar is hand painted to match our current Halloween Snow Jar onsite.
It is filled with a spiced apple scented wax and doubles as a decorative candle*.
The Snow Jar candle stands at about 4 inches tall, and is about 3 inches wide. See the final picture that includes a quarter for general size comparison.
Attached to each Snow Jar candle is an IcePets tag and a small styrofoam ball to mimic the tiny jack-o-lantern on the original Snow Jar.
On the bottom of the Snow Jar candle, you will find a sticker certifying it as a genuine IcePets.com Snow Jar candle. Printed on the sticker is the following:
"Halloween Snow Jar Limited Edition - 2013 ___ of 20 Copyright IcePets.com"
Each sticker will have a number written on it labeling which of the original 20 Snow Jar candles you received. Remember, we're only releasing 20 of the original 2013 edition!