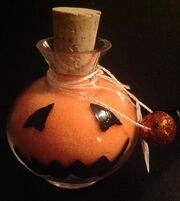 Each Halloween Snow Jar is hand painted to match our current Halloween Snow Jar onsite.
It is filled with a spiced apple scented wax and doubles as a decorative candle*.
The Snow Jar candle stands at about 4 inches tall, and is about 3 inches wide. See the final picture that includes a quarter for general size comparison.
Attached to each Snow Jar candle is an IcePets tag and a small styrofoam ball to mimic the tiny jack-o-lantern on the original Snow Jar.
On the bottom of the Snow Jar candle, you will find a sticker certifying it as a genuine IcePets.com Snow Jar candle. Printed on the sticker is the following:
"Halloween Snow Jar Limited Edition - 2013 ___ of 20 Copyright IcePets.com"
Each sticker will have a number written on it labeling which of the original 20 Snow Jar candles you received. Remember, we're only releasing 20 of the original 2013 edition!
Ad blocker interference detected!
Wikia is a free-to-use site that makes money from advertising. We have a modified experience for viewers using ad blockers

Wikia is not accessible if you've made further modifications. Remove the custom ad blocker rule(s) and the page will load as expected.